Just because I'm off on vacation for the next two weeks doesn't mean this blog is taking a holiday. No sir - thanks to the wonders of Blogger's scheduled publishing, there'll be posts up every week day as usual. And, just as was the case while I was in Britain back in June, I'm proud to present two weeks of Cliff-Clavin style trivia. Feel free to crib this stuff and use it to amaze people at cocktails parties! With no further ado, let's get to it…
If you're like me and hate overpaying for furniture, you've probably got some stuff in your house from Ikea. The cheap and relatively easy-to-assemble goods with the weird Swedish names are often a much better option than the expensive stuff found at smaller independent stores.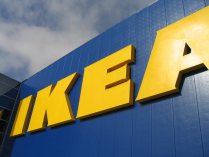 Well, it turns out those Billy bookshelves have a dark past… or more correctly, the man responsible for them does. Ingvar Kamprad started Ikea in 1943 when he was just a teenager. He initially sold household goods like matches and nylons out of a shed and delivered them by milk truck and only got into flat-packed furniture in 1956, whereupon his business started to flourish.
But the teenaged Kamprad had some rather extreme right-wing views and was friends with Per Engdahl, a Swedish fascist politician. Kamprad and Engdahl were buddies through World War II and onward, with the Ikea founder attending the politician's wedding in 1950. The relationship was exposed in 1994 when Swedish journalists found the deceased Engdahl's correspondences from the era.
Kamprad was mortified when the connection became public and swore up and down that his affiliation with the Nordic Youth, Sweden's version of the Nazi Youth, was the biggest mistake he ever made. He claimed that he didn't remember whether he was actually a member, although that sounds pretty fishy - how do you forget whether you were a Nazi or not?
Kamprad was further criticized by Jewish leaders for the fact that despite Ikea's international expansion, as of the late 90s there were no stores in Israel despite a number of outlets in Arab countries. Coincidence? Company executives tried to say so, but come on…
Swedish journalists never did dig into whether any of Kamprad's money went into Nazi causes, or whether any Nazi money filtered into Ikea. And even though I don't believe a person should be held responsible for their entire life for the stupid mistakes they made as a teenager, all of this does make you think twice about getting that cheap dresser, doesn't it?