We're in the midst of the Toronto International Film Festival, which means a good number of our city's inhabitants and media are agog in what can only be described as starfucking. Excuse the vulgarity, but it really is the only way to describe it. Our alt weekly The Grid seems to agree, yet it obviously isn't as willing to go as far in describing it as such. Nevertheless, TIFF's continued growth means the starfucking is only getting more institutionalized every year.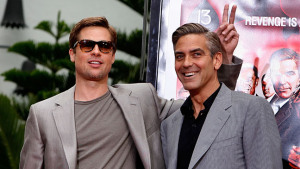 Speaking of which, if you're a movie fan, TIFF isn't for you. Yes, the fest is important for film makers looking to score distributors for their creations and it also presumably brings Toronto some tourist dollars and possibly some cred in its effort be considered a "world-class" city. But for the plain old movie aficionado, it really sucks.
I've lived in Toronto almost all my life and, despite being a film nut, I'd always avoided TIFF for some unknown reason. There was something about the event that just didn't appeal to me.
Over the past few years, however, I've given in and checked out a few screenings. Given the experience, I now know my intuitive aversion was correct.
For one thing, getting tickets is a ridiculous ordeal. Last year, I bought tickets online to Fubar 2, the sequel to perhaps the best Canadian comedy ever made (next to Porky's, of course). I was shocked to discover that I then had to go down to the TIFF ticket office and stand in line for an hour to pick them up. Exactly what was the point of buying them online?
The setup makes as little sense as Cineplex's useless mobile app, which also lets you buy tickets on your phone that you then have to print out at a kiosk at the theatre. Canadian film exhibitors of all stripes obviously aren't getting the point of the internet. How about an electronic ticket complete with barcode that is scanned at the theatre entrance?
Indeed, the film fest is all about standing in lines. Once you've picked up your tickets, it's off to the screening where, if you don't show up at least an hour ahead of time, you'll end up blocks away from the theatre entrance, with a crappy seat in the last row awaiting you. I remember standing in such a line when I was 10 years old to see Indiana Jones and the Temple of Doom. Movie-going has come a long way since then, but not at TIFF. Lineups are part of the event's elitist marketing philosophy, the same one practiced by nightclubs, where passersby see the hundreds of schmucks waiting and think, "Ooh, whatever they're in line for for must be good." Lineups, apparently, build buzz.
I've seen half a dozen TIFF films over the past three years and none have started on time. On Saturday, I had passes to see Fernando Meirelles' latest pic 360. My fiancee and I dutifully arrived an hour before - the line was already long, but we could actually see the theatre, so we were in good position. The start time came and went, however, but the line did not move. When I asked what the problem was, an usher told me the theatre was having sound issues and that they would start letting us in soon.
We figured that by the time everyone got in and to their seats, and by the time the director and/or stars wrapped up their inevitable introductory speeches, the film would likely start an hour and a half after it was supposed to. Add in two hours or so for the movie and we were looking at nearly five hours of time spent. That's way too much for a movie, especially when a beautiful, sunny afternoon was beckoning outside. So, we did the sensible thing: we split and went for a stroll instead.
So why do people go to film fest movies? The tickets cost more, there's lots of waiting and inconvenience and the films usually aren't shown in venues built to actually screen movies. What do attendees get in return? A chance to see the film a few weeks before its wide release and the ability to boast about being in the same room as their favourite celebrity.
Yeesh. No thanks. I'll wait to see the movies at decent prices in real theatres where they start on time. The starfuckers can keep their festival.