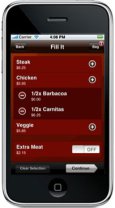 Chipotle Mexican Grill, the chain that makes pretty tasty burritos, has rolled out a new iPhone app that is just fantastic - and a wave of things to come for the fast-food business.
First, you sign up for an account on Chipotle's website, then you download the app onto your iPhone or iPod Touch. From there, the device's GPS finds the nearest restaurant. You then punch in what food you want, including the toppings, drinks, etc., and your account is charged. Your food is waiting for you when you get to the restaurant.
I played around with the app and, short of actually going through with an order, it's just that elegant, simple, and ingenious. It makes fast-food even faster, and if McDonald's and the rest of the gang have any brains, they're working away on creating similar apps right now.
Ironically, Chipotle used to be majority owned by McDonald's, but the godfather of fast food divested its interest in 2006 to concentrate on its core burger business. Now it seems like the student is surpassing the master (of technological innovation).
Chipotle is pretty widespread in the United States, but the chain only opened its first outlet in Canada - at Toronto's Yonge-Dundas Square - a year ago. The chain is a bit of mixed bag when it comes to fast-food; its burritos have been found to be incredibly unhealthy because of their high caloric content (packed with nearly 1,000 tasty calories!), but the company also prides itself on using organic ingredients.
I guess that means you can get fat eating their burritos, but feel good that you're not harming the Earth doing so.