Word emerged over the weekend that Rogers Communications, Canada's biggest cable and wireless provider, is looking to start up a bank. The company doesn't seem to be saying much on the matter, leaving people to speculate.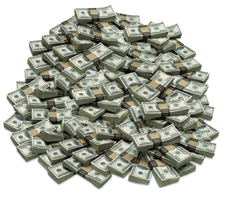 In that vein, here are 10 potential features of Rogers Bank (or Banque Rogers for those in Quebec). All in good fun, of course:
10. Contract banking: If you want an account, you have to agree to have it for a period of two or three years. In exchange, you get a discount on any cheques you order. Leaving early means you forfeit all your money.
9. Bank access fee: A monthly charge that is deducted from your balance, simply for the very privilege of using the bank. When customers complain, this will be changed to "regulatory recovery fee" that will ostensibly be used to cover the cost of meeting various banking regulations.
8. Account throttling: Rogers will reserve the right to manage how accounts are used in order to prevent their branches from becoming overcrowded and their ATMs from getting overused. Deposits will be unlimited, but customers will have to pay different amounts depending on how many withdrawals they want to do per month.
7. Usage-based billing: Customers will be charged a fee for every transaction above their monthly allotment. Oh, wait a minute… most Canadian banks already do this…
6. Paper fee: A $2 charge will be applied anytime a customer withdraws paper money.
5. Negative option banking: All Rogers' existing TV, wireless and internet customers automatically get accounts opened for them, with all associated fees being deducted monthly. If you don't want an account, you have to phone them up and tell them so.
4. Flanker banks: Soon after opening up the Rogers Bank, the company will also launch a slightly lower-cost Fido Bank. When competition proves to be too much, the even lower-cost Chatr Bank will spring up. Still, none will provide as much value as PC Financial.
3. Telus and Bell banks: In that vein, Telus and Bell will soon open banks too. Monkey see, monkey do and all that.
2. Non-compete clause: In the likelihood that Shaw also starts a bank, the two companies will agree not to open branches on each others' turf. Shaw will eventually violate the agreement and then, when accused of backstabbing by Rogers, innocently say that such a deal - if it ever existed - would have been illegal.
1. Sign-up gift: Every new account gets a complimentary subscription to Chatelaine!