Continuing on with Sex, Bombs and Burgers week - in conjunction with my book's U.S. release on Jan. 4 - today we'll look at how the United States is a major pornography hub.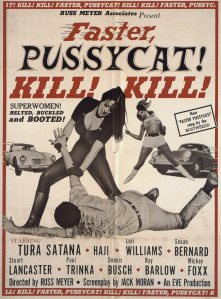 Here, the numbers are a little harder to come by, for a number of reasons. For one, most purveyors of adult entertainment are privately owned companies that aren't obligated to report their results. In fact, there are only a handful of publicly traded firms in the world that deal in the stuff, the biggest of which include Germany's Beate Uhse, Barcelona-based Private Media and Colorado-based New Frontier Media (Playboy used to be among this group, but it de-listed last year). Many privately owned producers keep their finances secret while others boast and inflate numbers.
The second problem in coming up with accurate figures is the fact that everyone is quietly in on it. Hotel chains, cable providers, wireless carriers, search engines, ISPs - all derive revenue from pornography in one way or another, but almost none of them disclose it.
The other big problem is that if a financial snapshot of the industry was historically tough to come by, it's even harder now that the business is in freefall. While the likes of Beate Uhse and Playboy were each raking in at least $300 million each a few years ago while I was researching my book, the three biggest public companies pulled in less than that combined over the past year.
As I wrote about a year ago in a lengthy piece for AskMen.com, the internet is killing the porn industry. As big of a headache as freely distributed content is for the music and movie businesses, it's even worse for adult entertainment because web surfers have no compulsions about getting the stuff without paying for it. The traditional-sector profiteers are hurting too thanks to the internet, smartphones and iPads - with people bringing their own porn, hotel chains are pulling x-rated movies from their in-room entertainment options.
One last complicating factor in trying to assess the business's financial state is self-interested over- and under-inflation. Groups selling filter technologies have often overstated revenue estimates while religious organizations not wanting to legitimize the industry have under-reported their guesses.
Nevertheless, some people have gamely tried to get an idea of how much money pornography generates. The most thorough numbers I've seen were compiled by Internet Filter Review a few years ago, before the deluge of YouTube porn clones kicked the downfall into high gear. The site sells internet filters and the numbers appear to include traditional sector businesses as well as the adult industry itself, so it's probably safe to assume they're on the high side, but they are still more comprehensive than most found elsewhere.
That said, China, South Korea and Japan seem to be the three biggest generators of porn-related revenue, with the United States coming in fourth. China, where pornography is officially banned, brought in about $27 billion in 2006, while the U.S. accounted for about half that at $13 billion. Per capita revenue, however, was much higher in the U.S. at $44.67 compared to China's $27.41, although both countries were way behind South Korea's per-person amount of $526.76. According to these numbers, South Koreans really love porn.
Even taken with a grain of salt, it's clear the United States is not the world's king of porn consumption, although it is one of the biggest. Where the U.S. is the clear leader, however, is in production - and especially in technological leadership.
Americans took the lead in global porn production following the Second World War, where thousands of soldiers were trained as semi-professional filmmakers. Using smaller, portable 8- and 16-millimetre cameras to shoot combat footage, these troops learned how to create movies cheaply and flexibly. After the war, some used the new standardized technology to create an independent movie scene outside of Hollywood, the most popular genre of which turned out to be soft-core porn, or what would come to be known as sexploitation.
With the huge popularity of movies such as Russ Meyer's Faster Pussycat, Kill! Kill!, would-be filmmakers piled in to the genre and technological innovation exploded. Peep-show booths that ran film loops came first, then camcorders and VCRs - many of which were invented in Japan, but adopted first in the United States by porn directors. Then came the inevitable move to DVD and, finally, the internet. Along the way, American producers led each technological paradigm shift.
It's no surprise that Americans are dominating the current stage, with an estimated 89% of porn created in the U.S.
What's the next stage? Robots, of course. You'll have to read the book to learn more about that, but in the meantime consider this: it's no coincidence that the four biggest markets for robots - South Korea, Japan, the United States and China - are also the four biggest porn markets.