Right around early November, I usually get a familiar sliver of fear riding up my spine. It happens in anticipation of the horrific winter that's on the way. Minus-20 temperatures (minus-four to Americans), back-breaking snow shoveling, winds that can flay the skin from your bones… it's enough to scare one into a four-month-long hibernation.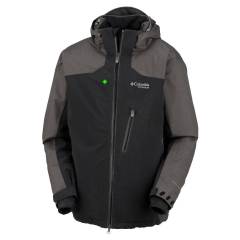 We've been lucky this year, with an unseasonably warm winter here in Toronto. So far, there has been virtually no snow and temperatures near zero. I don't know what that means in the larger ecological sense, but for the most part, all hail global warming!
In any event, I'm not sure why it never occurred to me that enduring such hardship is entirely optional in this modern age. I'm not talking about moving to Hawaii, there's actually a much easier way to cope with winter: technology.
Imagine my joy when I recently discovered that Columbia, the sportswear maker, has a whole line of clothing that is heated with batteries. The Omni-Heat Electric line uses rechargeable lithium batteries to heat jackets, boots and globes. It sounded too good to be true, so I had to try it out.
Columbia sent me the Circuit Breaker Softshell to test. Fortunately, we had a cold spell this weekend where temperatures indeed dipped into the minus-20s, so it was good timing. The Circuit Breaker features heating elements around its mid-section and wrists, so it's supposed to keep your body and hands warm. The jacket has two inside pockets on each breast where the batteries are stored, and there's a further pocket that holds a small controller device. The whole thing can operate with just one battery, but when both are fully charged and connected they can provide heat for up to six hours.
The jacket has three settings: high, medium and low, with high supposedly able to keep you warm in temperature of up to minus 50. Fortunately, I don't think I'll ever have to test that capability. The jacket turns on and off by pressing a small button mounted on the chest, much like a Star Trek communicator pin. The button glows red when the jacket is on high, yellow on medium and green while on low.
The heating elements aren't the only technology built into the jacket. It also has Columbia's Omni Heat thermal reflective liner, which is a metallic-like fabric that bounces body heat back onto you rather than allowing it to leak out of the jacket.
So what's the verdict? Well, the Circuit Breaker is easily the warmest jacket I've ever worn. I handily weathered our frigid weekend despite wearing only a thin sweater underneath. In fact, it almost felt like I was wearing armour specifically designed to protect against the cold - but more on that in a second.
I expected the jacket to feel much like a heating pad, but it was nothing of the sort. While the elements are warm to the touch, they do their job subtly. At no point does the heat get uncomfortable, even on the high setting.
The jacket's biggest flaw, however, is that damn light on the chest. Holding the button down for 10 seconds is supposed to send it into "stealth mode," where it turns off despite the jacket still being on, but I couldn't get this to work for the life of me. The result is rather hard to miss, which means strangers will inevitably stop you on the street to ask why your jacket is glowing. After explaining it to one fellow in a bar, he suggested I mention in my review that I attracted everyone's attention when I walked into the establishment.
I ended up checking with the company, which instructed me to hold the button for longer - closer to 20 or 30 seconds. I did and the light ended up flashing, then turned off after another 30 seconds or so. The lights on the batteries stayed on, indicating that the jacket was still on, yet the LED on the controller device turned off, contrary to what the instruction manual said should happen. In the end, the instructions are out of sync with how the jacket actually works. I wish I'd known that before wandering into a bar lit up like some sort of cyborg.
The other downside of the Circuit Breaker is a funny one - wearing the jacket really makes you aware of how cold the rest of your body is. While my arms and torso were toasty warm this past weekend, my head, hands, legs and feet were frozen, so I regretted not trying the heated boots and gloves as well. Columbia doesn't appear to make electric pants yet, but it seems like those are going to be an inevitable necessity. The ultimate scenario, therefore, is one where we'll be wearing a sort of winterized Iron Man suit - a complete set of powered armour designed specifically to defend against the howling cold.
Such a suit would be downright pricey. The Circuit Breaker sells for $850 while the glove and boots are around $400 each. There are cheaper brands of electric clothing options out there, although I'm not sure how well they do the job. Still, for people who loathe the winter as much as I do, it might be a small price to pay in order to stay nice and warm. It's also considerably cheaper than moving to Hawaii.