Every now and then I get accused of bad or lazy journalism for something I've written here on this blog. It's a charge that used to bug me because I take pride in my work, but these days it's more amusing than anything because it's clear that many people still don't understand what a blog is supposed to be, or at least what mine is.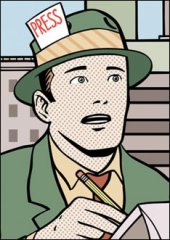 There's certainly no one definition as to what a blog is and I'm sure everyone who writes one has a slightly different view of what it is they do. With that said, having been at this for three years now, I have some specific thoughts on what blogs are or should be, and what they aren't.
When it comes to the issue of journalism, the debate is long and thorny. A quick Google search turns up copious screeds and videos on the topic, with some arguing vociferously that bloggers are indeed journalists and others countering equally as strongly that they are not.
I've always taken a rather old-school and fundamentalist view that journalism consists of both a reporter and an editor working in tandem. The best reporter in the world sometimes misses things, makes mistakes and allows his or her bias to slip in. An editor - even a lowly copy editor - is there to catch all these things and elevate the story. I feel this way because I spent the first half of my career on the editing side.
It's also why I don't consider any work that doesn't have an editor - including everything I write on this blog - to be proper journalism. I don't have an editor and am flying without a net here. I'm fully conscious of the fact that I sometimes miss things or add my opinions in. That's kind of the point.
Back at one of my previous employers, my colleagues and I were asked to contribute to a blog. The problem, however, was that this particular news outlet had a policy against reporters expressing their opinions. We argued that such a policy made it impossible to perform such an endeavour since opinions were an integral part of a blog. After all, a blog without some sort of personality wasn't really a blog, or so we maintained. Management either agreed with us or wasn't willing to bend policy, so they dropped the request.
So what are blogs given those two factors? Or more specifically, what is this blog?
It's not an easy question to answer - and purposely so. I like to think of my blog as a hodge-podge repository of whatever strikes my fancy. Sometimes I'll post an interview I did with someone, other times I'll review a product. Most often I'll analyze the news or critique something, while at other times I'll rant or sketch out my thoughts on some topic (like what I'm doing right now). On the odd occasion, I might even break news.
For the reader, I hope that what I write is ultimately informative, educational, entertaining, thought-provoking or, at the very least, a decent way to waste a few minutes.
On both sides, the beauty of a good blog, I think, is that anything goes.
I suspect the "lazy journalism" comments come from people who expect that a blog written by someone who considers themselves to be a journalist to practice the same values as proper journalism.
I do consider myself to be a journalist and in fact do produce much journalism for various outlets. But like I said above, though, without an editor I don't think it can be journalism. Some have argued that readers can perform many of the same functions as editors. While that's somewhat true, they can't do it before something is published. I'm still old school enough to believe that proper journalism should be as fully right as possible before it is introduced to the world, rather than made correct after the fact.
Also, without opinion, commentary, analysis or - most importantly - personality, I don't think that a blog is really a blog. There are many examples of cold, dry attempts, usually from big companies, but these are generally easy to identify as the marketing efforts they're intended to be.
The best that an independent blogger can aspire to, then, is to be "journalistic." It's not quite journalism, but it's close.
Last year, U.S. District Judge Marco A. Hernandez set out seven rules under which bloggers could be considered journalists and therefore qualify for First Amendment protections. They are:
Education in journalism.
Credentials or proof of affiliation with a recognized news entity
Proof of adherence to journalistic standards such as editing, fact-checking, or disclosures of conflicts of interest
Keeping notes of conversations and interviews conducted
Mutual understanding or agreement of confidentiality between the defendant and his/her sources
Creation of an independent product rather than assembling writings and postings of others
Contacting "the other side" to get both sides of a story
The rules have been thoroughly criticized for various reasons, but most of them are actually not that bad. The first two are silly, but the remaining five are good guidelines that can be considered aspirational. I do my best to practice them, while at the same time hope that readers understand what I said above.
At the very least, the next time someone accuses me of lazy journalism, I'll point them to this post.