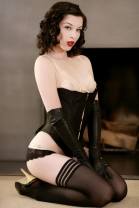 As the year (and decade) winds down, everywhere we look it's lists, lists, lists. Lordy knows I've written my share - here's my games of the year and of the decade, if you're curious. That said, this blog is just about nine months old… or old enough to warrant my own list. Here are the ten most-viewed posts of the year, or three quarters of a year anyway. See if you can detect a pattern:
10. Jesse Jane talks tech, Mar. 2
Clips of my interview with porn star Jesse Jane.
9. You can't ban porn on the internet, June 16
A rant about how porn and net neutrality often intersect.
8. Grand opening, March 2
My very first post, detailing what the blog and book are all about.
7. Porn parodies proving to be a gold rush, Aug. 28
A look at the x-rated spoofs of sitcoms and movies that are proliferating.
6. CBC journalists reign supreme, May 20
A totally self-indulgent post about winning a journalism award along with fellow CBCer Bruno Guglielminetti.
5. The Wii of porn. And I do mean wheeee! Mar. 20
A look at AEBN's virtual motion-synced vagina, the Real Touch.
4. India, Afghanistan cracking down on porn, May 28
Pretty much a self-explanatory post.
3. 3D porn on your iPhone, Mar. 16
A very short post about porn producer Pink Visual teaming with Toronto's Spatial View to present three-dimensional adult films and pics on the iPhone.
2. Stoya talks tech and sex, Apr. 6
My interview with porn "it" girl Stoya, where she gave her thoughts on technology.
1. Porn producers anxious for Palm Pre, May 15
Some news about how adult companies were looking forward to putting their content on Palm's new smartphone.
Wow, 8 out of 10. That's a lot of porn. Some analysis and explanation: most of these posts did not immediately draw traffic on the day they went up. They accumulated it over time, which means pretty much one thing that should come as a surprise to no one: people are searching for porn on the internet.
The number one post, meanwhile, can be explained by its linking in a number of Palm forums. Palm is sort of like Apple - it's a company that has a very devoted following, and its devotees like to chat about all aspects of its devices. It's not surprising they latched onto the idea of porn on the Pre.
It is good to see that my very first post explaining the book is up there, so people are at least reading up on the whole point of this blog.
In any event, I hope everyone reading (including you porn searchers) has a great New Year's Eve! Here's hoping that 2010, the year we make contact, is good to everyone!