Amidst all this usage-based billing and Wind Mobile nonsense that's been going on for the past few weeks, there's been a lot of talk about the Canadian government finally doing something about the restrictive limits on foreign ownership of Canadian telecom companies. I've been whining about it for years, so hearing others support it is of course music to my ears.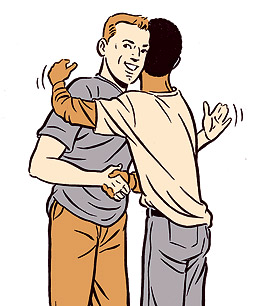 But, while removing the restrictions is the right thing to do to bring Canada economically in line with the rest of the world, I've long wondered whether we need to make the move for an entirely different reason: do we need foreigners to come in and teach us how to compete?
I've touched on this before, but I don't think I've ever outright pondered whether there's just something about Canadians that makes us innately less competitive with each other and the rest of the world. And if so, is that a bad thing? As the stereotype goes, Canadians are considered peaceful and polite folk who live above their brash and boisterous neighbours. If that view is actually true, do we also apply it to how we do business?
The example I always bring up to friends is the corner of Queen and John streets here in Toronto. For as long as I can remember, there has been a (Canadian-owned) Second Cup coffee shop on the southwest corner, across the street from MuchMusic. At some point years back, I can't remember when, a (U.S.-owned) Starbucks opened up directly across from it, on the northeast corner. That always struck me as a very American thing to do - open up right next to your competitor and try to drive them out of business. The Canadian thing to do, I think, would be to find a different location a few blocks away and open up there. That way everyone can get a share of the pie, rather than fight it out tooth and nail for the same customers.
It's an isolated anecdote, but we see it in telecom. The other day, I mused on Twitter why B.C.-based Telus doesn't sell residential internet access in Ontario and Quebec, either as a reseller using Bell's or Rogers' pipes or by building its own, to compete head on with those companies. I was reminded privately by an acquaintance who knows something of the situation that it indeed nearly came to pass - Telus was looking to do exactly that a few years ago, but ended up chickening out because it was afraid that Bell would retaliate by selling internet service on its own turf out west.
In some ways, that's understandable - no one really wants to start a turf war. But in other ways, it's inexcusable and anti-capitalist - if your mission isn't to put the other guy out of business, you shouldn't be in the game. In other words, it seems to be the Canadian way of doing business versus the American way. Which is better? I'm not sure. But one certainly is more purely capitalist than the other.
Another good example is the "gentlemen's agreement" between Shaw and Rogers, which has apparently existed in secret for years. How this one escaped the attention of our Competition Bureau is a mystery… or maybe it's not - maybe the bureau was just being thoroughly Canadian by letting it slide. When Shaw tried to buy Ontario-based Mountain Cable a few years ago, Rogers sued, claiming the deal violated an agreement the two big cable companies had to not compete on each other's turf. Shaw countered, saying no such agreement existed because if it did, it would have been illegal. Really? You don't say.
There are occasions where the big telecom companies do sell services on each other's turf - wireless is, of course, an example, while Shaw does sell satellite TV outside of its western base. But in all cases, no one really goes for anyone else's throat on enemy territory because - like the Telus internet situation - they're afraid of retaliation back home.
If we open the doors to foreign companies, they will harbour no such fears. AT&T, Verizon, Vodafone and the whole lot have absolutely zero to be afraid of when it comes to Bell, Rogers, Shaw and Telus - it's not like any of our domestic companies are in any position to encroach on the invaders' home turf. That's really why I've always been a proponent of lifting the restrictions; doing so may not solve all our problems, but it certainly will lift the veil of coziness (or fear-induced inertia, whichever way you prefer to look at it).
Doubtlessly, that Second Cup on Queen and John was forced to up its game when Starbucks came in. The fact that it has survived is perhaps proof that Canadians can compete against larger, better-funded rivals. This could apply in telecom too. Then again, coffee is one game while tech and telecom are another.
We all know the story with Nortel. Canada's big international success story one day, all but erased from existence the next. Many people are now wondering if BlackBerry maker Research In Motion is basically Nortel 2.0. RIM did well when its only smartphone competition was Nokia, but it hasn't been looking too good since Apple and Google - American companies - entered the picture.
If Canadians do have some sort of competitive deficiency, it's probably been ingrained in our identity over the course of decades. Over that time we've been told that Canadian culture - whether it's books, music or television - needs to be propped up and protected to keep us from simply being absorbed into Americanism. Combined with protectionist laws like our telecom ownership restrictions, this has ironically insulated us from the rest of the world. Canadians like to think we're more worldly than Americans, but are we really? Their culture goes out and conquers the world while we sit and jealously guard ours.
It's disappointing to see this insularity encouraged by our government. I was quite peeved to see Conservative attack ads mock Liberal leader Michael Ignatieff for the fact that he left Canada to find success abroad, that doing so somehow made him less Canadian. I don't care what Ignatieff's political stripes are, I say good for him for going out into the world and competing against everyone else. That's something we should all be striving for. (And please don't construe this as support for Ignatieff or the Liberals… I'd support any member of any party for doing the same.)
I know it's provocative and possibly offensive to impugn on our ability to compete, and there are countless examples of Canadians being world beaters in all walks of life, but as far as business goes what do you think, realistically: are we competitive? Or do we need a good foreign ass-whooping to get us going?