Book business is indeed facing its digital reckoning
The Globe and Mail ran a fascinating story on Heather Reisman's "digital reckoning" over the weekend. Reisman is the CEO of Indigo, Canada's book chain monolith, and the story is about what she is trying to do in the face of the shift to digital books. Like I pointed out last month in my predictions for the next decade, book stores are on the endangered species list because of the rapid growth of e-books.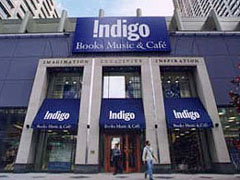 Indigo's strategy, which has been apparent for some time now to anyone who has ventured into one of its stores, is to shift away from books and toward knick-knacks like candles and picture frames. According to the story, Reisman is looking to ramp up those non-book sales over the next couple of years to 40 per cent of the business from the current 15 per cent.
That's a pretty dumb strategy since it effectively means Indigo is going into competition with Walmart. There seems to be little one can't get at its "book" stores that can't be had at the superstore chain, where such goods likely sell for half the price. A better plan would be to fully concentrate on Kobo, the e-reader and e-book store combination Indigo launched last year. The venture has lost money so far, according to the story, but building it into a legitimate competitor for Amazon's Kindle and shutting down huge and expensive stores seems like the logical way to go.
Indeed, the whole book business is changing. Indigo and other book store chains would also be wise to start building ties to writers directly by cutting out the middle men, which is what publishers are rapidly becoming. Check out the graphic that accompanies the Globe story, which attempts to detail one of the publishing industry's closely-guarded secrets: the breakdown of who earns what on the sale of a book. A $25 hardcover earns an author only $2.50 while a $10 e-book gets them $1. Many, many authors - myself included - have harped before on why this is far from equitable distribution on a product that is entirely dependent on the writer's intellectual property.
The graphic, along with this article about an author finding success through self-publishing, pretty much tells the story of how the business is changing. There have been numerous anecdotal stories about self-published writers hitting it big, but this particular article is notable in that the author supplied sales reports backing up her claims of making millions of dollars. Physical book store chains such as Indigo therefore need to adjust to this changing reality before pure-digital plays make them completely irrelevant, much like iTunes did to HMV.
What was most surprising about the Globe and Mail story, however, were the reader comments. It's true that such forums are often a repository of negativity, but I've always found the Globe's comments to be a little bit better than most, either because the readers are more intelligent or the sign-up process is more rigorous. Nevertheless, the sentiment toward Reisman and Indigo was one of universal condemnation. If the comments are anything to go by, Canadians are wringing their hands at the prospect of the book chain's inevitably collapse. From its inexplicable U.S.-to-Canadian currency price discrepancies to its protectionist attempts to keep Amazon out of Canada, the book-buying public is clearly ready for Indigo's inevitable demise and the larger changes to the business as a whole.