My first Consumer Electronics Show, in 2007, was a nightmare. It wasn't just because I had booked my trip late, which meant staying miles and miles away from the Las Vegas Convention Center, it had more to do with the gear I brought with me to do my job. It was heavy, clunky and didn't work very well.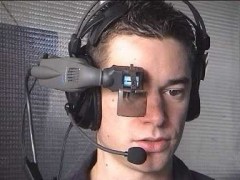 In my previous post, I talked about how the nature of covering the show has changed. Equal to that, however, is the incredible evolution in the equipment used to cover it. In just five short years, it's amazing how much easier it has become for us journalists to attend and report on such events.
Computers: Five years ago, I lugged a big, heavy PC down to Las Vegas, then all around the show. It was back breaking, yet it didn't really allow me to do much well, other than write simple stories. Windows Vista had trouble with different internet connections, meaning I spent almost as much time trying to get online as I did writing. This year, I had a Macbook Air, a computer that I toted about most days without hardly noticing it in my backpack. It connected to Wi-Fi everywhere with no problems and let me do basic video and audio editing with no hiccups.
Connectivity: Speaking of Wi-Fi, five years ago it was barely existent in Las Vegas. It has steadily improved over the past few years, with a new high being achieved this time around. Before the show, I was hesitant to commit to supplying video to my employers, but upon arriving in my room - and in the press room at the event - I was pleasantly surprised. Uploading large-file videos was actually faster than on my home connection. Similarly, cellphone networks were way better this year. It was still frustrating to upload photos via Twitter from the convention floor, but you could eventually get it done, sometimes by simply stepping outside. As recently as last year, it was nearly impossible to send any data wirelessly because of the congestion. Read the rest of this entry »