Just how ingrained is fast food in our brains? Extremely, according to a New York Times article. KFC's Kentucky Grilled Chicken menu item was the most memorable new product of 2009, according to the eighth annual study conducted by Schneider Associates, IRI and Sentient Decision Science, which was released the other day.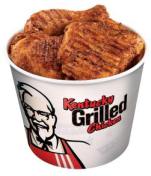 Moreover, five of the top 11 products (there was a tie for 10th place) were fast-food items. They were McDonald's McCafe coffees (#2), Quizno's Torpedo sandwich (#6), McD's again with the Angus Burger (#7) and Taco Bell's Volcano Nachos (#8). A couple of non-fast-food items made the list too, including the Blackberry Storm and the Beatles Rock Band video game.
The story indicates that the poor economy was to blame for the lack of memorable new products in 2009, and from my experience that's probably right. Over the past few days, I've been thinking about the upcoming Consumer Electronics Show in Las Vegas in January, which I'll be covering. I'm expecting it to be a pretty exciting one after last year's, which was pretty morose because of the economy.
Last year, the big electronics companies held back on introducing fancy new technologies because they knew no one would have the money to buy them. Now, with things looking up, I suspect they're going to let the new stuff rip.
But the survey, which may or not be based on dubious methodology (read the NYT article), nevertheless highlights more than just economic problems. It also shows how effective fast-food advertising is, which means the companies involved put a lot of effort and resources into making people aware of their new products. Food is, after all, the biggest industry there is (more than $4 trillion in annual global revenue) and it is fiercely competitive. It's no wonder some of the products are memorable.
In the end, it's probably a good thing that KFC's grilled chicken - which is considerably healthier than just about anything else on its menu - was the most memorably new product of 2009, and not the Double Down.