When news broke Thursday night that Rogers and Bell, Canada's two biggest telecommunications companies, were looking to jointly buy Maple Leaf Sports Entertainment - owner of the Toronto Maples Leafs NHL team and other properties - the reaction from the public via Twitter was swift and decisive: this is bad.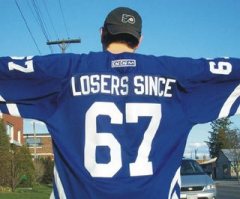 There were the expected barbs, about how if people think their Leafs' tickets are expensive now, wait till the cellphone companies get ahold of them, but the issue is actually much deeper. Such a deal would exemplify everything that is wrong with the Canadian telecommunications and media industries.
As many pointed out, just how did this deal between supposed rivals happen? Did the conversation go something like this:
Rogers exec: Man, you guys sure stole a lot of our TV subscribers last quarter.
Bell exec: Yeah, well that makes up for the years you trounced us on wireless.
Rogers exec: True. Want to buy the Leafs with us?
Bell exec: Hell yeah!
Moreover, such a deal puts the spotlight on vertical integration. With the Leafs representing the most valuable sports content in the nation's most populous province, you can't help but wonder what the two companies - who both also own broadcast channels - are thinking. It seems obvious a joint deal is a strategic move by both that is designed to prevent either from sole ownership of the Leafs.
It also looks like an attempt to cut any potential third parties, particularly the CBC - a broadcast competitor to both companies that has historically aired Leafs games - out of the country's most lucrative sports franchise, which brings up two further questions.
Will such an obvious deke move around rivals and potential anti-competitive collusion pass muster with regulators? And given that, doesn't it make sense for such valuable content to be owned by a neutral third party - as it always has been - in the first place? The deal seems as competitively logical as AT&T's attempt to buy T-Mobile in the U.S., which has been all but scuttled by authorities.
For those reasons, it would be hugely surprising if Rogers and Bell are allowed to go ahead with the purchase.
That said, why would they even want to buy the team? Leafs fans already pay more to follow their team than anyone else in the NHL, so how much room is there for the business to grow?
As expert after expert has pointed out (even going so far as to use hockey analogies), the foreign ownership restrictions on Canadian telecom companies have not only kept companies from other countries out, they've also made domestic firms myopically cozy within our own borders. Wouldn't Bell and Rogers encounter better growth prospects by investing in fledgling wireless and internet operations in places such as Africa, India or South America? Why are they concentrating on buying up more-than-mature assets in Canada rather than trying to look for new growth opportunities elsewhere in the world?
It's a clear case of those foreign ownership restrictions literally coming home to roost.